However you choose to wear your hair, it will always benefit from highlights. Follow this A-Z definitive guide, for the best highlight styles for your hair.
Baby, You Light Up My World
The babylights look is achieved by highlighting thin, fine streaks of hair to frame your face and mimic the subtle light colours present in children's hair.
The key to getting this charming 90s classic is to use your highlight kit to very delicately brush on thin segments of hair.
This youthful style is perfect for any mid to light hair tones and is incredibly easy to apply and maintain.
Renew your childhood days and enhance your beautiful features by achieving this look with Renew Highlights Hair Colour Kit.
Throwing back to the good old days
Fabulously French
Balayage is a French word meaning to paint or sweep. So obviously that's how you achieve this drop-dead gorgeous highlight style.
Balayage is a freehand highlighting technique that requires no foil. It's the best way to avoid a harsh contrast. So reach for your blonde Renew Highlight Colour Kit to be a 'belle fille.'
Brushed on benefits
Chunk Out My Hair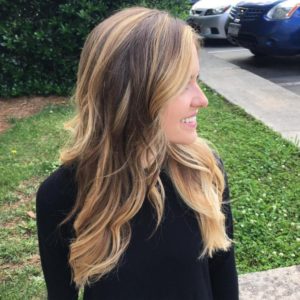 Chunky highlights are an interesting look to go with. Once prominent in the 90s, this fun highlight style is making its way back into the modern fashion world and boy, we're excited.
This unique method of colour application is not the most common choice, but it's a look to try if you plan to stand out.
Chunky highlights are achieved by dyeing strategically chosen segments of your hair to best suit your look. This lets you create a fun and creative look of your own design.
Chunky highlights are universal and work perfectly with any hair length, style and colour. Personalise your look by getting the chunky highlight style you deserve with the Renew Highlights Hair Colour Kit.
Image source: nnata.co.uk
Make your look
Darkness Turns To Light
Ombre is French for shading, which is the perfect name for this stunning highlight style. This look is all about being dark at the top and gradually getting lighter.
Celebrities love this look and for good reason; it's incredibly versatile. Like our famous friends, you can wear this look to the beach, while relaxing at home or attending the most exclusive events.
Like all highlight hairstyles, you can easily get this trendy do with the Renew Highlights Hair Colour Kit.
If the Ombre look isn't what you want, then try the beautiful alternative, the Sombre. Sombre is short for subtle Ombre. The main difference being the blend between your colour and your highlights.
A Sombre look makes your highlight style look more natural like you've just come back from a glorious sunny getaway.
Any way you like it
Find something you like? Be sure to let us know which is your favourite highlight style and why you love it on social media. Remember you can get any of these looks with Renew Highlights Hair Colour Kit and make that look your own.
Follow us on Facebook and Instagram, or visit "Vibrant You" on our website to learn more about our products and who we are.