New year. New decade. A chance to really show off a brand new you. Most of us are still easing into 2020, so there is time to completely overhaul your look.
Instead of keeping things paired down for back-to-varsity and work, why not stand out instead? There's no time to play it safe, 2020 summer hair trends are here to bring the drama and the fun.
We love to get a bold new look at the start of a year for a reason. A fresh new style can really give you that much-needed boost of confidence and energy.
Plus, who doesn't like getting loads of likes on your fire #NewHair selfie?
Here are some trending summer styles to get you inspired to make yourself over.
Unexpected Colours Paired With Dark Roots.
Looking for a way to switch up to a bold colour, without lots of maintenance?
Then you'll love this look. Instead of colouring your hair from root to tip, leave your natural roots and then blend out into a bright colour.
By keeping the roots dark, you'll not only have an edgy look but also a style that doesn't need monthly touch-ups.
Think all the fun of colour, without the costs and time of redoing roots. This look really keeps its touch as it grows out. Win-win, right?
The best part? This colour trend works with bright colours, fresh blondes, middle parts or even bangs.
Ombre Hair Is Here To Stay.
While we've seen ombre fades do the trend-run for several years in a row, the 2020 update brings ombre hair in bright colours and dreamy pastels.
Get summer hair trend points by stepping up your ombre style with a bright blue or baby pink gradient.
Surprise Them With Pops of Colour.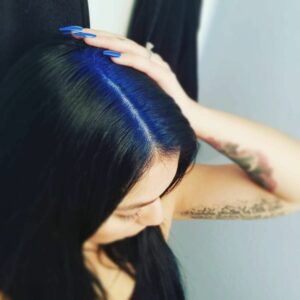 We love summer hair trends that let us add pops of pink or blue, without having to commit to a full head of colour.
If dark roots and pastel hair combo or a full ombre feel a little too much for you, we've got you covered. Skip the full root-to-tip ombre and dip dye your tips a funky hair colour instead.
Channel the ombre trend, quickly and easily, with coloured tips. Plus, maintenance is also minimal as the style will still look intentional, even when it starts to grow out.
Or you can get Billie Eilish vibes by keeping the rest of your hair natural and only colouring the roots.
Go for ALL of the Colours
If you're completely committed to a statement new look, why settle for just one shade?
Mix and match contrasting colours for a rainbow style, guaranteed to turn heads and get likes.
Multi colour hair works with bright shades or pastel hues, as well as in chunky highlights or thinner sections.
So, you're sold on the styles but not sure how to make them happen?
Check out our new Colour Play Kit from RENEW. This range was designed to let you play with colour at home.
Let the kit guide you on how to get the exact shades you're looking for, whether it be bright and bold or soft and pastel. Three epic shades and so many ways to change them up! Don't forget to tag us in your summer hair trend makeovers. Tag @renew_colourin your selfies.