When it comes to hair trends and styles, it's common for the classic pearl throwbacks to make a comeback. From fashion to hair, past influences can return and still make a powerful statement. Classic Pearl locks are one example of how old Hollywood glamour can be made modern. Light, bright and luminescent, this shade is a lot like a highlighter for your hair and we're loving it. Here are a few more reasons why you might want to try it out.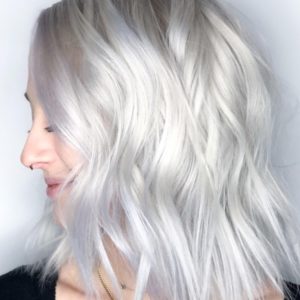 Image Source: Allure.com
Time to shine
It's a step up from blonde
If you've already got blonde hair or you're considering going blonde, why not choose something with a little more wow factor? Whilst we've already mentioned that it brings life to your face, it can also bring out your eyes, making them appear lighter.
Stand out in a crowd
Looking to choose a new shade and style that really sets you apart? Look no further. Classic Pearl is a colour that is unique in its own right. With few being brave enough to take their blonde this far, you'll probably be the only one you know with this hair. For now.
It only needs a little maintenance
Like many other standout shades, you'll need to take care of your tresses once they're done. We suggest using a silver shampoo to maintain your bright white hue. If you're not sure how often you should be using this shampoo, we recommend it once a week.
To keep your hair soft and silky, a good mask is a must to lock in moisture. Once a week is also the go-to for any treatments that you need to apply. Don't forget to use a protectant product prior to any heat styling. That way, you won't dry out your hair and dull your colour.
More versatile than you think
It's a common misconception that white and pearl shades are limiting in terms of styling but this couldn't be further from the truth. From long hair to shorter styles, every cut looks super chic. Straight hair and curly hair both look amazing in this shade and so do styles like braids and top knots. This means that choosing this colour could open up a world of style opportunities.
It's super glamorous
Yes, it can be playful but don't let it fool you, pearl hair is ultra-glam! There's just something about it that screams old Hollywood, especially when you pair it with pearl earrings and some red lips. Think Marilynn Monroe, but in the 21st century. It really is beautiful and striking, in every kind of way.
The stars love it too
Kim Kardashian West, her little sister Kylie and even Christina Aguilera have embraced their pearly side. With a fun, flirty effect, it's no surprise that we're seeing more and more celebrities do this too. On red carpets where there's loads of competition for attention, bright, luminous pearl hair really does stand out.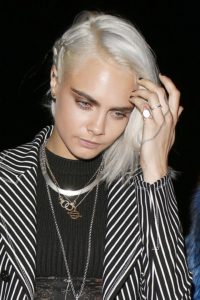 Image source: Glamourmagazine.co.uk
Cara loves pearl
A change is as good as a holiday
Let's face it, we're still a while away from the year-end holiday season. This means you've got to find another way to give yourself the break that you deserve. Why not take some me-time and treat yourself to a new look?
You'll be surprised at what it can do for your confidence and state of mind. At Renew, our range of colours was created to help you look and feel your best. With the added goodness of Argan Oil Infused Conditioner, you can change your colour without causing any damage to your hair. Have you tried a shade of classic pearl white? Tell us below.
For more on our range of colours, please follow us on Facebook or Instagram.