Gigi Hadid has had a meteoric rise in the world of modelling and fashion. Let's face it – the girl can do no wrong. With a mother like Yolanda as your mentor growing up, who wouldn't? Blessed with a former model as her mother, Gigi knows all about celebrity hair trends, being in the industry for so long. What I like about her is that she has remained humble throughout, even when walking the runway as a Victoria's Secret angel!
She tends to stick to styles that really suit her structure. This girl knows her angles and sticks to them. Whether it's slicked back, loose waves framing her face or a high ponytail, she looks gorgeous every day.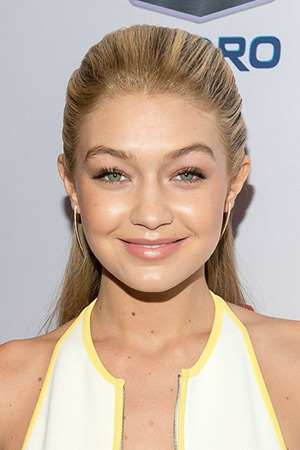 Colourwise, blonde is her go-to colour. Blonde hair colour really suits her and it never looks false. You know that fake blonde that some celebrities do? The one where you wish you could change it just a shade or two darker so they look less washed out? Yep, that fake blonde. Well, she never looks that shade.
A new trend with hair colour is strobing. It's not just for the face anymore. This gives hair the power to change your facial features, as it lightens the hair around the eyes, giving the illusion of high cheekbones and brighter eyes. Gigi has recently tried this trend.
According to Nalan Derby, hairstylist to the stars, 'Creating hair colour is not a "one size fits all" concept, as there are so many different shades and tones to choose from, a bespoke and tailored colour may not be an instant thing. Your perfect colour quite often evolves from a series of journeys – which is why it is so important to create an individual path for each client. It is a process that is done together and follows an in-depth consultation.'
'Gigi Hadid is a fantastic example of a cool and effortless colour that lights up the face and makes the features pop,' Nalan adds. 'Her highlights are more piecey than the blended balayage we have seen over the last few seasons – it's just the right balance of light and shade to perfectly illustrate how the strobing effect can lift the face.'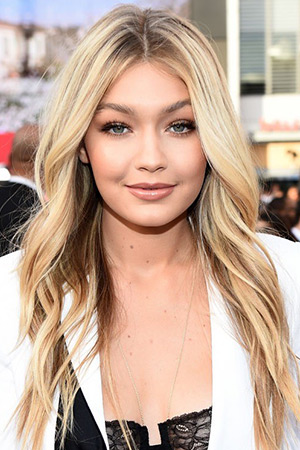 When asked about her secret to healthy hair Gigi said, "I don't wash my hair every day, which is what keeps it healthy because that way it doesn't dry out. Being on the beach all the time gave me my original highlights, but I get some balayage highlights on top so then when it grows out you can't tell it's been coloured. It's definitely LA, balayage. It's a low-maintenance way to be blonde.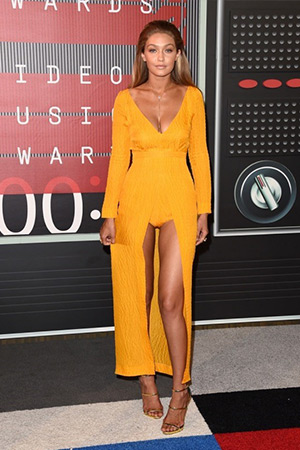 When styling her hair, she finds that silicone serums are all really good, especially the smooth and finish serum. When she is going for a more messy and textured look she uses hairspray to give a tousled effect.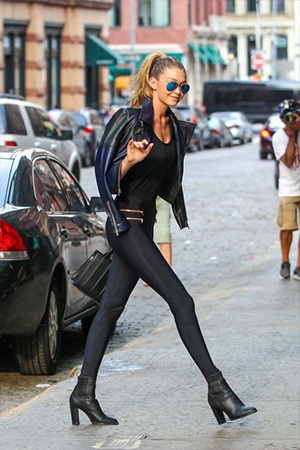 We all thought she had done a big chop, when, in fact, it just was a clever use of a partial wig mixed with her own hair. Her hairstylist helped her create the illusion of the bob by working with shorter pieces of her own hair, mixing it with the wig and then tucking her longer hair underneath the wig. Everyone loved the look on her and she kept everyone guessing for a good 24 hours after the show. Even with short hair, she looked incredible. Is there a hair trend that she can't pull off? I think not.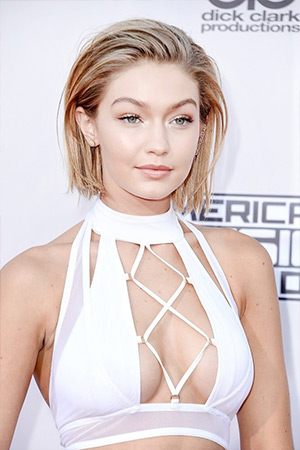 The key to celebrity hair trends is to find which one suits you. We don't all have the same hair texture, or the same shaped face, so what works for someone else won't necessarily work for you. Be realistic and alter the trend to something that suits you.
Which of Gigi's hair trends is your favourite? Have you tried any? Share your pictures and tag us on social media.
Follow us on Facebook or Instagram to see more fabulous hair colours.